By Sarah L. Blum
(Permission is given to print this essay free of charge in its entirety, including byline and tagline.) 
I left Vietnam where I came in, Bien Hoa airbase. There were a couple hundred of us lined up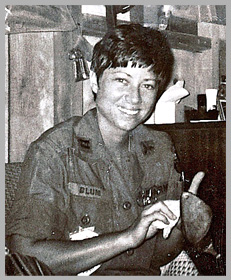 on the  tarmac in the 110° heat waiting for what we called the 'freedom bird;' the plane that would take us home. We all felt like sitting ducks because the airbase was hit with mortars very frequently, especially when soldiers were waiting to go home. I was terrified that I had lived through that year of hell and would be killed as I was waiting to leave. I know I was not the only one who thought and felt that. When the plane came it was pink and orange, the color of Southwest Airlines. Everyone was tense until the moment the plane actually lifted off the tarmac. At that point I could hear everyone taking in, a much needed, deep breath. It was a collective loud intake of air and relief, "We made it out alive."
I came into Travis Air Force Base and had to get to San Francisco, International to get a plane to LA. I felt like I was in a fog. They kept us on the plane at Travis for two hours before they let us deplane. They said it was for our safety and told us not to wear our uniforms. They had waited until there were very few people in the airport to let us off. Apparently American Uniformed Service Members were being harassed and attacked by anti-war protestors so we were cautioned not to be in uniform for our own wellbeing. My mind could not fathom what I was being told. "You mean I spent a hellish year in the midst of a war, caring for my brother soldiers wounds, and now I am home safe but I am at risk here because of my service?"
I took a red and silver bus from Travis AFB to SF International Airport and it was raining. I remember looking out the window of the bus at nothing but the raindrops on the window and finding myself feeling like I was inside the raindrop. The rain seemed friendlier than anything else in that moment.
I was heading for LA to see my nurse friends I worked with before going to Vietnam. It was late at night and I was so glad to finally have someone glad to see me. The next day I had my first experience of culture shock when I was on the way to the hospital to visit my friend Bea and an ambulance went by with the siren blaring. I instinctively dove into the foot-well of the car, as though expecting an attack. My friend Ellie, was shocked by my reaction and so was I. Later we went into a supermarket and when I stepped onto the pad in front of the door and the door suddenly flew open, I jumped back. It took me awhile to acclimate back into society.
I did much better when I finally arrived at Madigan General Hospital (MGH) and stepped into my role as head nurse of the orthopedic ward to take care of "my brother soldiers." I was glad to be out of the operating room and be able to listen to and talk with them. I received them when they came back from Vietnam, often through a hospital in Guam or Japan, check their wounds and let the doctor know. I got them settled, arranged for a special meal of their choosing and brought the portable phone to their bedside, if they were bedridden, so they could call family members. I loved my job in 1968 as the head nurse of ward 6 and I felt great physically, mentally and emotionally.
From 1968-1970 I was a student at Seattle University and exposed to the Black Panthers and the protests against the war with me being a target. I stopped telling anyone that I was a nurse who served in Vietnam. In 1970 I married another Vietnam Veteran and we had two children. Twelve years later I was part of the very first women veterans group at the Seattle Vet Center for 16 weeks, and then did another 16 weeks after that to deal with my PTSD symptoms. That was not enough and by 1984 I was doing therapy with a trauma specialist until 1987.
I attended the National Salute to Vietnam Veterans in Washington D.C. in 1982 and marched proudly down constitution avenue with many other veterans from Washington State. I also went to the dedication of the Vietnam Veterans Memorial, The Wall, and connected with other nurse Vietnam Veterans for the first time. That was the best part for me. I became a member of the Vietnam Veterans of America (VVA) did veterans work both locally and nationally, and was one of the first two women elected to the National Board of Directors of the VVA. I went back to D.C. four times a year and not only worked with VVA but worked to get legislation passed to study the effects of agent orange on women veterans and their children. Legislation for women veterans did not succeed in the two years.
In 1984 I met a Vietnamese hospital worker, Thu-Van Nguyen, who, like me, had a passion for healing veterans. We worked together to create Recognition/Friendship Day on November 11. Against the fears and protests of many of our soldiers, we brought Vietnam Veterans together with Vietnamese Veterans for the first time at the Veterans Hall at Seattle Center. She and I told our stories first and then we alternated a Vietnam Veteran with a Vietnamese Veteran telling their own stories and after the first two they were all crying and sharing hugs with each other. The room was packed. Every TV and Radio station was there along with two newspapers. It was a once in a lifetime event that touched many people.
Sarah L. Blum ARNP
Dedicated to inspiring hope and positive change.